AAUW Garden Tour July 15, 2020
CANCELLED

Due To Covid 19

AAUW Prairie School House at Frontier Village will not have host/hostesses this year due to COVID 19 but will be available for viewing through the partition.
AAUW Bookstore Now Open
The AAUW Used Bookstore has reopened for business. Our regular hours are M-F – 10:00 AM – 5:00 PM and the second Saturday of every month, 10:00 AM – 2 PM
Membership Renewal
It is time to renew your membership to AAUW.  You can renew your membership online by logging into the Member Services Database or if you want to become a member of Jamestown AAUW that also can be done online.
AAUW National Unveils New Website
AAUW is pleased to announce the launch of our new national website.  The site is the result of many months of hard work and close collaboration with design experts, staff at all levels and AAUW members.  AAUW is thrilled to showcase member and staff work together towards advancing gender equity.
Jamestown Mayor Dwaine Heinrich Proclaims March 31, 2020 – Equal Pay Day
Jamestown Mayor Dwaine Heinrich proclaimed March 31, 2020 as Equal Pay Day in Jamestown. Equal Pay Day is the day that symbolizes when the typical woman working full time in the United States catches up to what a man was paid the previous year.   According to the most recent U.S. Bureau of Labor Statistics, ND women working full time, year-round in 2018 typically earned 73.9 percent of what men earned, indicating little change or progress in pay equity in the past 50 years.   That ranks North Dakota as 47th in the nation as having the largest pay gap for women.  Nationally, according to the U.S. Census Bureau, the report shows that in 2018, women in the U.S. received just 82 cents for every dollar paid to a man.  Women of color often face a wider gap: Compared to white men, Black women make 62 cents on the dollar, and Latinas make 54 cents on the dollar.  The Jamestown AAUW organization has been working to try to close that pay gap.  Jamestown AAUW has been involved in educating young women about careers in Science, Technology, Engineering and Math with the annual Tech Savvy event that is held in March at the University of Jamestown. Careers in STEM occupations are typically well paid and male dominated, with the national average salary for these jobs sitting at $87,000.  Tech Savvy is trying to change that demographic, according to Jamestown AAUW President, Debbie Alber.
At the current rate, the gender pay gap will not close until 2106. In 2018, AAUW announced a bold pledge to train 10 million women in salary negotiation by 2022.  Jamestown AAUW had to cancel a Work Smart Salary Negotiation Training in Jamestown that was scheduled for April 2 due to the pandemic, but will reschedule it sometime in the future.  AAUW will not wait for policies and employer culture alone to determine when we reach parity. AAUW members are working to empower women nation-wide with skills to effectively negotiate their salary and benefits and become agents of change in their communities.  Please consider celebrating Jamestown's Equal Pay Day by taking the free online Work Smart course at https://salary.aauw.org/ and continue to urge your legislators to make improvements to ND equal pay laws so that fair pay is an accessible reality for everyone.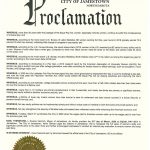 Work Smart Salary Negotiation –
Canceled Will Be Rescheduled
Jamestown AAUW canceled the workshop but you can still participate from home.  Please visit Work Smart and take the FREE online course.  Jamestown AAUW will be rescheduling their online Work Smart Salary Negotiation workshop that was formerly scheduled for Thursday, April 2, from 7:00 – 9:00 PM at the Jamestown High School Computer Lab at a future date due to the pandemic and social distancing.  The course is designed to teach women the skills they need to successfully negotiate and close the pay gap for women everywhere.  The seminar is limited to 20 participants. Please pre-register by contacting Debbie Alber, 701-269-1446 or dova_car@yahoo.com
February Stay Home and Meet
This month is going to be our stay at home and meet meeting. Members can either select a book to read The Radium Girls by Kate Moore or watch a movie, "She's Beautiful When She's Angry," or if you are feeling really adventurous, do both. We will then hold a conference call discussion group for those who want to join in by phone. We are in need of two discussion group leaders for this meeting. If you want to be a leader – let Deb Alber know (701-269-1446). The movie discussion will be held on Thursday, February 20 at 7:00 PM. Dial in Conference Number is 712-775-7031 Access Code: 667275745 #. The book discussion will be held on Thursday, February 27 at the same numbers as the book.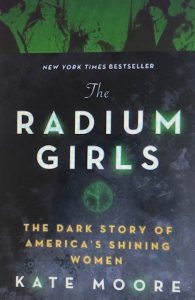 The Radium Girls by Kate Moore. Discussion Feb. 27, 7:00 PM. Call 712-775-7031 Code:667275745#
The year was 1917. As a war raged across the world, young American women flocked to work, painting watches, clocks, and military dials with a special luminous substance made from radium. It was a fun job, lucrative and glamorous – the girls themselves shone brightly in the dark, covered head to toe in the dust from the paint. They were the radium girls. Drawing on previously unpublished sources – including diaries, letters, and court transcripts as well as original interviews with the women's relatives – The Radium Girls is an intimate narrative account of an unforgettable true story. It is the powerful tale of a group of ordinary women from the Roaring 20s who themselves learned how to roar.
Discussion Questions:
1. What do you find most horrifying about the suffering the women endured as their health deteriorated? Was this too difficult to read? Or did you get through it?
2. Talk about the response of the United States Radium Corporation to the women's complaints—how much did it truly understood about the hazards of radium? What arguments did the company enlist against the health claims of the women?
3. What most outraged you about the treatment the women received? The dentist who approached the company for hush money, for instance? What else?

She's Beautiful When She's Angry. Discussion February 20, 7:00 PM Call 712-775-7031 Code: 667275745#
Resurrects the buried history of the outrageous, often brilliant women who founded the modern women's movement from 1966 to 1971. SHE'S BEAUTIFUL takes us from the founding of NOW, with ladies in hats and gloves, to the emergence of more radical factions of women's liberation; from intellectuals like Kate Millett to the street theatrics of W.I.T.C.H. (Women's International Conspiracy from Hell!). Artfully combining dramatizations, performance and archival imagery, the film recounts the stories of women who fought for their own equality, and in the process created a world-wide revolution.
The film is an incredible narrative account of second wave feminist activism in USA, which raises many questions about the current state of feminism globally today. What is your opinion on the state of feminism today?
This movie was a visual history of second-wave feminism. What visual, in the movie, most stood out to you?
What is the most important message you would like to share after watching the movie?


MEETING CANCELLED WEATHER


Drug Court & Criminal Justice Reform

Jamestown AAUW will be hosting an informational program on the Southeast Judicial District Drug Court and Criminal Justice Reform on Saturday, January 18 at 10:30 AM at the Buffalo Room in the Jamestown Legacy Center at 419 5th St NE (enter on the west entrance).  Branch member, the Honorable Judge Cherie Clark and LeAnn Bertsch, director of the ND Department of Corrections and Rehabilitation will be presenting about the Southeast Judicial District Drug Court in Jamestown which serves Stutsman and Barnes Counties. The purpose of the court is to assist participants in initiating and sustaining positive, long-term lifestyle changes, including living free from criminal behavior and substance abuse disorders. The women will inform us about the court and how the community can become more active participants in drug and criminal justice reform.  The public is invited to attend this meeting.  Branch members will enjoy a luncheon and meeting prior to the program at 9:30 am also at the Legacy Center.  Please RSVP to Barb Domek at b.domek5540@gmail.com or 515-991-6646 before January 8.  Cost of the lasagna luncheon is $11.00.
Jamestown AAUW Holiday Party
Members met on Thursday, November 5, 2019 at 6 pm for a time of food and socializing.  The party was held at Linden Court Community Room at 1400 10 Ave NE, just north of Casey's.  Members enjoyed ham sliders, mulled cider, salads and desserts.
Members learned about the German Christmas Markets and holiday foods from a UJ student from Germany.  Followed by a white elephant gift exchange.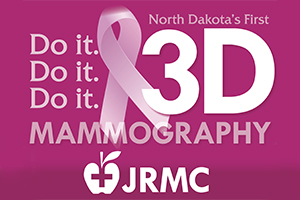 No Excuses – October 10 – Jamestown Regional Medical Center
AAUW branch members learned about the No Excuses program at their October meeting.
Together, JRMC, JRMC Foundation, Central Valley Health and ND Women's Way have partnered to eliminate barriers to allow women to receive the health care they need.
JRMC Foundation and Women's Way pay for mammograms, pap tests and advanced screening technology for uninsured and underinsured women in the region. The exams are paid for by the annual "RM Stoudt Running of the Pink" 5/10K walk and run each June and other special events.
We want women to find breast cancer and cervical cancer early. It can mean the difference between having a lumpectomy and a mastectomy, needing chemotherapy or not, and having
Girls Won Top Prizes in National STEM Contest
All five top awards were won by 14-year-old girls, with projects ranging from trapping invasive species to improving water filtration systems to designing bricks that could be used to build on Mars.
The five winners were chosen from 30 finalists selected from 2,348 applicants in 47 states by a panel of distinguished scientists, engineers and educators. This year, 60% of the finalists were female—a first for the competition. That's an encouraging sign for the STEM (Science Technology, Engineering, and Mathematics) field, in which women are still underrepresented.
To read all about these amazing girls and their projects read more at Girls Win Top Prizes.
Barb Domek – Communications Chair
Branch member, Barbara Domek, accepted the appointment as our branch communications chair and also a position on the steering committee. Barb is fulfilling the term of member, T  Johnson who is suffering some health issues.
AAUW Supports Downtown Arts Market
AAUW Jamestown received this lovely photo from the Jamestown Arts Center for our financial support of the Downtown Arts Market.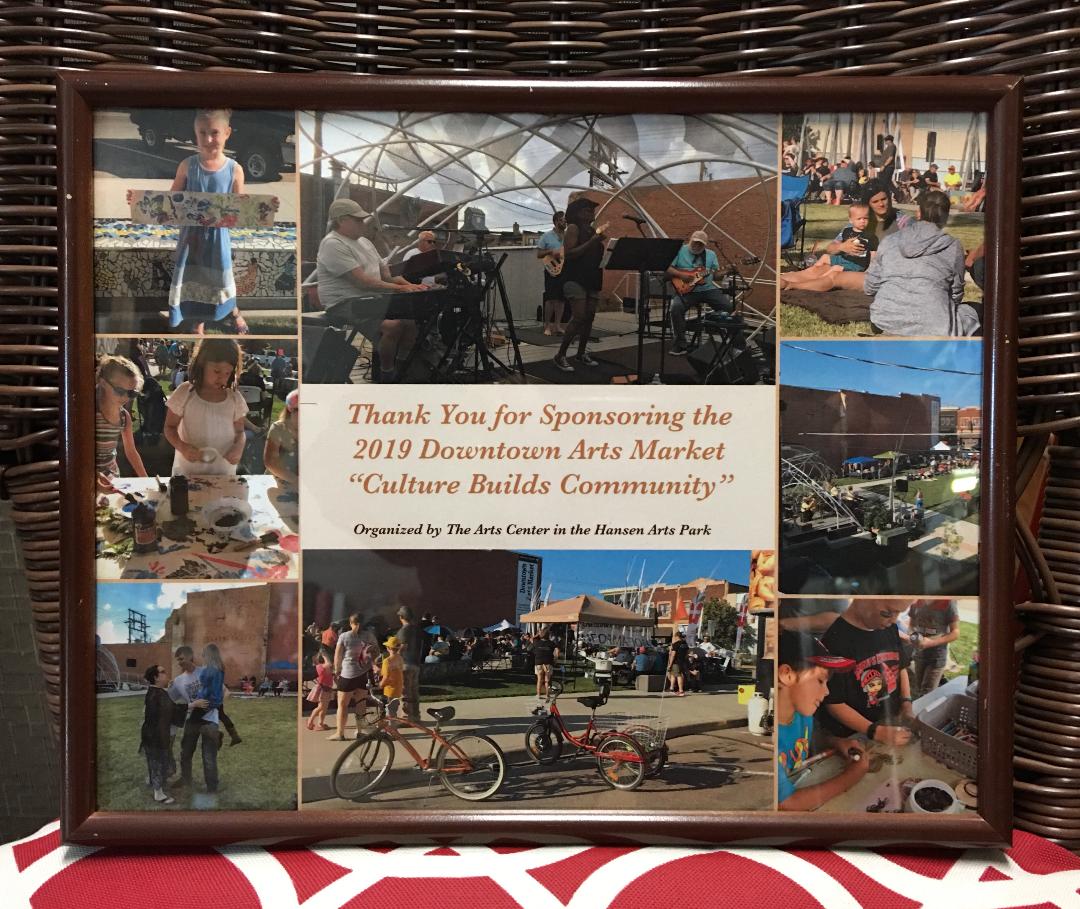 September 12 Meeting – James Valley Library
The September 12 meeting was held at the James Valley Library (Alfred Dickey Library) community room.  Members learned about the history of the James Valley Library and library features and it's significance to ND history.  Members also learned about how the library has evolved and changes to the library.  Dessert was served following by Barbara Domek and Debbie Alber during the business meeting.

AAUW 30 ANNUAL GARDEN TOUR – July 17, 2019 – 4:00 – 8:00 PM
The 30th Annual AAUW Garden Tour  was held on July 17, 2019 in Jamestown, ND.  Thank you to the community for again supporting this fundraiser that benefits AAUW Scholarship Fund at the University of Jamestown and supports AAUW programming that supports equity and education programming for women and girls. A special thanks to all those who assisted with the event and for our business who support it: The Arts Center, Country Garden Floral, Don's House of Flowers, and Lloyds Toyota.  And our wonderful garden host sites this year:
Connie Kanwischer, 1601 10 Ave NE, Jamestown, ND
Don and Karen Schumacher, 3321 Highway 20 North, Jamestown, ND
Yvonne Wibstad, 306 5 Ave. S.W., Jamestown, ND
Rod and Teri Wolters, 908 13 St. SW, Jamestown, ND
June Meeting Salad Potluck

Members had a great time at the Salad Bash held on June 13 at Centerpoint Condo.  The event hosted by Donna Gullickson included invited guests who enjoyed a potluck salad dinner and conversation starters.  AAUW Bingo was played using trivia questions that included information about AAUW.  Winners were guest Carol Schmidt and Barbara Lang.  Two members won the drawing for a free national membership as part of last year's "Shape the Future" membership drive. They were Louise Williams and Linda Todd. Volunteers are still needed to staff the Pioneer School at Frontier Village contact Laurie Erickson at 701-952-1306.  The AAUW Garden tour will be held on July 17, 2019.
Pioneer School Day – Branch Meeting – May 16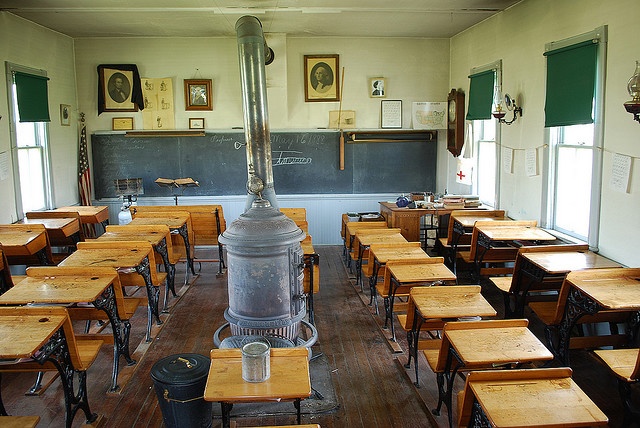 Branch members will met on Thursday, May 16, 2019 at the Frontier Village Pioneer School.  Members Kelly Krein and Laurie Erickson will give a history of the school, followed by an update on summer opening plans.  An oral account of what teaching was like in a rural school will also be given.  Join AAUW members and guests for an ice cream float at 6:30 PM followed by the program at 7:00.
Visit Salary Negotiation take this free online course in salary negotiation techniques. AAUW's goal is to mobilize a million.
AAUW Steering Committee
The AAUW Steering Committee will be meeting on Monday, May 20 at 6:00 PM at Paradiso in Jamestown. All members are welcome to attend.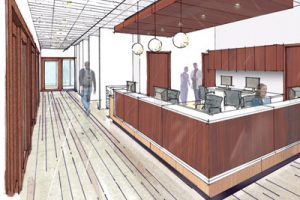 Jamestown Cancer Center Update – April 4, 2017  7:00 PM Branch Meeting
Jamestown branch members met for supper and fellowship at 5:45 PM at the Apple Café at the Jamestown Regional Medical Center followed by a tour of the new Cancer Center along with a presentation given by Foundation Director, Lisa Jackson.  A short meeting followed.
Governor Doug Burgum Declares April 2, 2019 – Equal Pay Day
AAUW ND asked the Governor of ND, Doug Bergum, to declare April 2, 2019 as Equal Pay Day for the State of North Dakota.  The request is now official.

TECH SAVVY – THURSDAY, MARCH 7
Jamestown AAUW held another successful Tech Savvy Event on Thursday, March 7, at the University of Jamestown.  Read and watch the video all about the event here: Tech Savvy
In Memory of Helen Hample
Longtime AAUW Jamestown branch member, Helen Hample, passed away on Tuesday, January 29  at the age of 104 years young.  A donation in her memory will be given to the AAUW Educational Fund.  This lifelong member will be greatly missed.  Helen joined our affiliate on July 1, 1940 and has been an active member since.
2019 AAUW North Dakota State Meeting Scheduled
Several meeting attended the AAUW North Dakota State meeting which was also held in conjunction with We Rise on March 3 and 4.  AAUW ND followed the WE RISE Women Empowered which was sponsored by the ND Women's Network.  The schedule of activities  follows below with the exception that our annual meeting was held on Sunday, March 3, 5:00-7:00 PM in the conference room at the Ramada by Wyndham at 1400 Interchange Ave, Bismarck.
Sunday, March 3, 2019
1:00 PM – 5:00 PM – Advocacy Training @ Ramada, 1400 Interchange Ave, Bismarck
5:00 PM – 7:00 PM – AAUW NORTH DAKOTA ANNUAL MEETING (hotel conference room) Coffee and water only as food should be served at the social.
7:00 PM – 9:00 PM – Social @ Ramada, 1400 Interchange Ave, Bismarck.
Monday, March 4, 2019
8:00 AM – 3:30 PM – We Rise: Women Empowered Lobby Day @ ND State Capitol, 600 East

January Brunch Meeting – 10 AM – Jamestown Legacy Center
Members learned how their perception can change depending on how we look at things with an activity using peacock feathers and also about the styles they use to resolve conflict during a program given by Liz Hunt from the University of Jamestown called "Crucial Conversations."