Meeting September 6 – Edgewood Senior Living Center
Bring a guest and meet at the Edgewood Senior Living Center, 1104 25 St. SW, Jamestown at 5:00 PM on Thursday, September 6 for fellowship and a light supper.  Longtime members Helen Hample and Hazell DeGroot will be recognized and our program will include a short history of AAUW and the Jamestown affiliate.  A tour of Edgewood will also be available.
University of Jamestown Block Party 2018
Members from AAUW Jamestown passed out many "It's My Vote – I will be heard" stickers and also passed out information on how to vote in ND to freshman students at the 2018 UJ Block Party that was held on Main street in Jamestown on Aug. 30.  With a crowd of over 1500 persons the event was a huge success.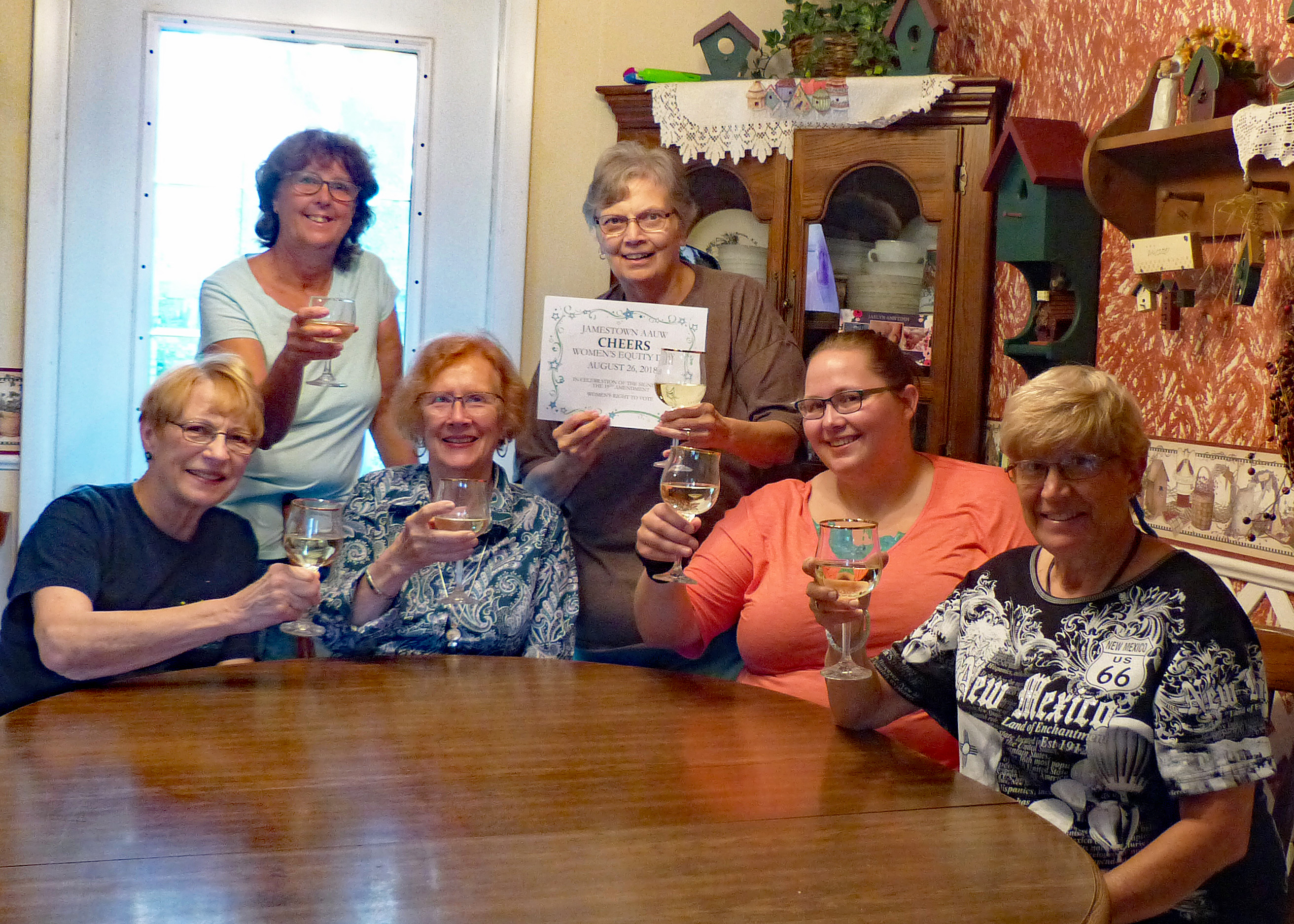 Jamestown AAUW branch members recently celebrated the anniversary of the signing into law of the 19th Amendment to the U.S. Constitution with a #ToastToTenacity. The 19th Amendment to the U.S. Constitution became law in August 1920, granting American women the right to vote. Ninety-eight years later, Vision 2020's Toast to Tenacity honors the suffragists who fought for this right, and urges women to shape the future by exercising their right to vote.

Thanks for supporting our 29th Annual AAUW Garden Tour
Congratulations to AAUW's 2018-19 Fellowship and Grants  Awardees!
The 2018–19 award year kicked off with the release of our updated online Fellowships and Grants directory in which you can find out more about the remarkable women and organizations from your area! To learn more about AAUW's fellowships and grants programs and past awardees, visit our fellowships and grants web page and read our Following the Fellows blog series.
AAUW Issues: Federal Judicial Nominations
AAUW's Public Policy Priorities supports "a fair, balanced, and independent judiciary" to ensure constitutional protection for the civil rights of all individuals. Federal courts up to and including the Supreme Court are often also the last, best hope for women who have experienced discrimination in education, employment, health care, and other aspects of their lives.
2018 AAUW National Bylaws Amendment Vote Results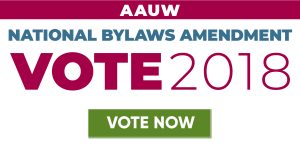 Thank you for participating in the 2018 AAUW National Bylaws Amendment vote. We had a great turnout this year with over 17 percent of eligible members participating in the vote, more than three times the 5 percent required by our bylaws.   In North Dakota we had 175 eligible voters and 24 voted for a total of 13.7 percent.Thank you for making your voice matter on these important issues.
Know Your Rights: The Equal Pay Act
Despite the passage of the EPA 55 years ago, women still do not take home wages equal to those of their male peers. If you're concerned that you may be a victim of sex-based pay discrimination, or if you just want to know more about how the EPA works, this resource covers the basic information to get you started.
Take the Pledge to Protect Title IX
June 23rd marks the 46th anniversary of Title IX. Help fight back against attacks on the Title IX by pledging to take part in AAUW's upcoming campaign to protect Title IX.

Still Separate, Still Unequal: The Role of Black Women and Girls in the Legacy of Brown v. Board of Education
More than sixty years after Brown v. Board of Education of Topeka, in which the Supreme Court ruled that state laws segregating schools were unconstitutional, schools are more segregated than they were in 1968 (approximately 75 percent of black students attend racially segregated schools), and black girls have suffered greatly as a result.
Broken Ladders: Barriers to Women's Representation in Non-Profit Leadership
Women's equity in the workplace has been a focus of the American Association of University Women (AAUW) since our founding in 1881. And while great strides have been made, women are still largely excluded from the most powerful corporate positions in our economy. For Instance, the Fortune 500 list of the largest American corporations recently reached a historic high representation of women CEOs at just 6.4 percent, or about 1 in 15. Women in these companies fill only about one in five senior management positions.  AAUW's latest report on women in leadership at nonprofits is now available online.
Potluck Meeting – June 7 – 6:00 PM
Members attended a potluck meeting on Thursday, June 7 beginning at 6:00 P.M.  The meeting will be held at the Central Community Room located at Centerpoint Condo at 1208 14 Ave. SW., Centerpoint Condos.  New members who complete membership enrollment will receive half off National Dues as part of the "Shape the Future" event.  Affiliate members, Shirley Seher and Louise Williams were the winners of a AAUW National Membership.  Their names were drawn from the members who payed early bird membership dues. Election and installation of officers was held. The slate of officers for the upcoming year steering committee are:
Chairperson – Debbie Alber (not present)
Secretary – Lauren Sako (not present)
Finance Officer – Mary Craft
Communications – Denyse Johnson
Membership – Jill Schlenker
Newsletter – Donna Gullickson
Profits made from our Used Bookstore our Branch gave:
 $400 to the James River Valley Library's Centennial Initiative
 $800 went to UJ
 $800 went to AAUW National.
 $840 of the profits went to Tech Savvy
 AAUW State Convention 2018 profits, $430, were sent to the AAUW State.
Join or Renew Membership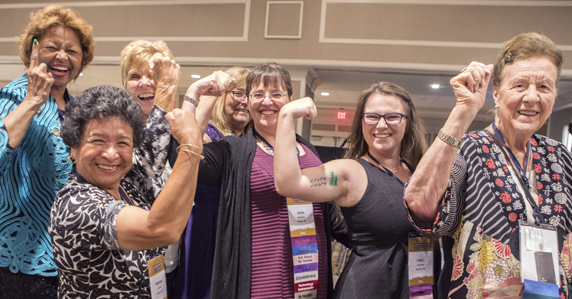 It's that time of year to Join or Renew your Membership to AAUW.  AAUW is a community standing 170,000 strong for gender equity. Your membership makes our powerful voice even louder on critical issues affecting women and girls. Learn more about AAUW.
Visit our JOIN page for more information.  Past members who renew before the June 1 deadline are entered into a drawing to receive a free National AAUW membership (valued at $59).  The drawing will be held at our June meeting.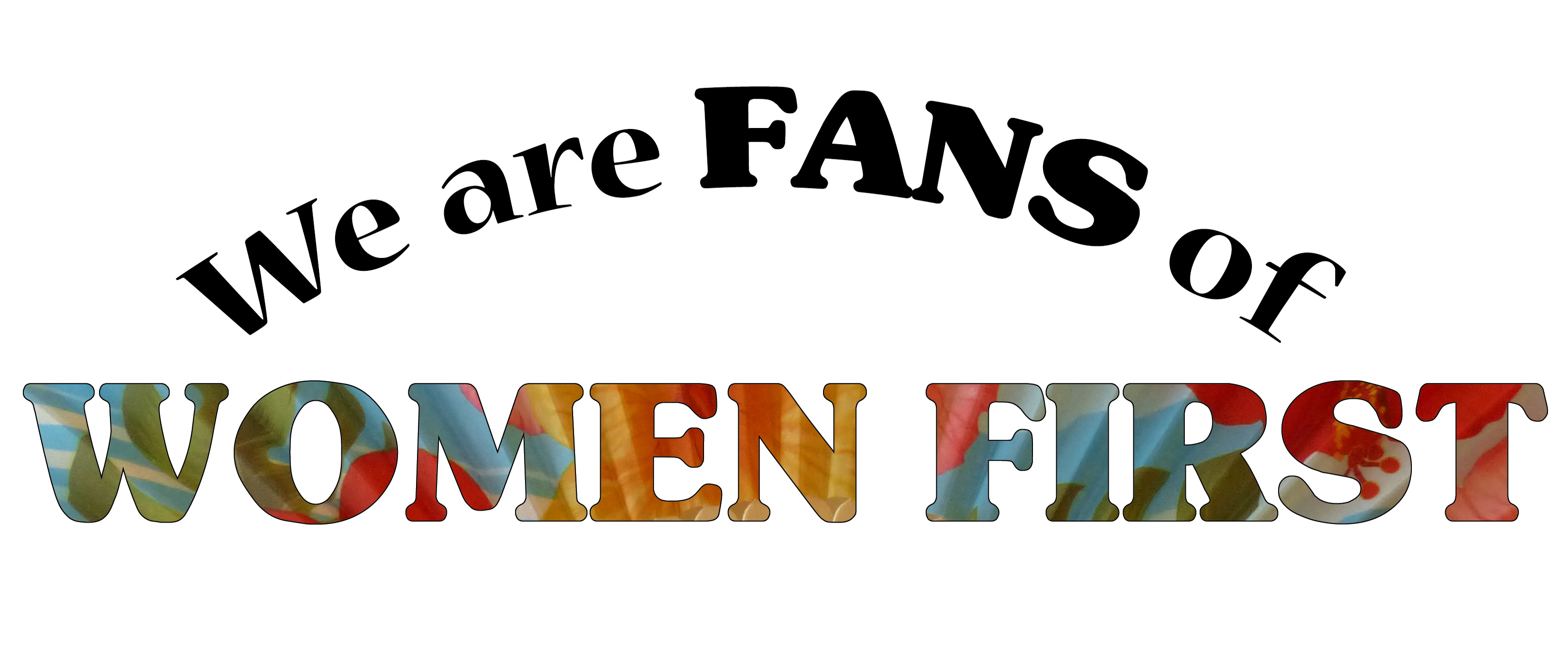 Jamestown AAUW recently hosted the AAUW North Dakota Annual Meeting on April 13-14.  It was a great meeting, read all about the highlights here https://aauw-nd.aauw.net/2018-annual-meeting/
Branch member, Mary Craft, Unison Bank, Artist of the Month
Mary Craft, a member of our branch, was honored this month by Unison Bank as their "Artist of the Month."  Her thirty-one pieces of mixed media art are on display at the bank, located on Main Street Jamestown, during the month of April.  Mary also was recognized last year by having her art work selected for one of the AAUW National postcards during the AAUW National Member Art Contest.
Jamestown AAUW Sponsors Tech Savvy/Stem Tastic on March 15
Jamestown AAUW member assisted and sponsored the Tech Savvy/Stemtastic event that was held on March 15 on the University of Jamestown Campus. 

This event showcases hands on activities that promote careers in STEM (science, technology, engineering and math).  Read all about this event.  Tech Savvy and Stemtastic
January 13 Brunch Meeting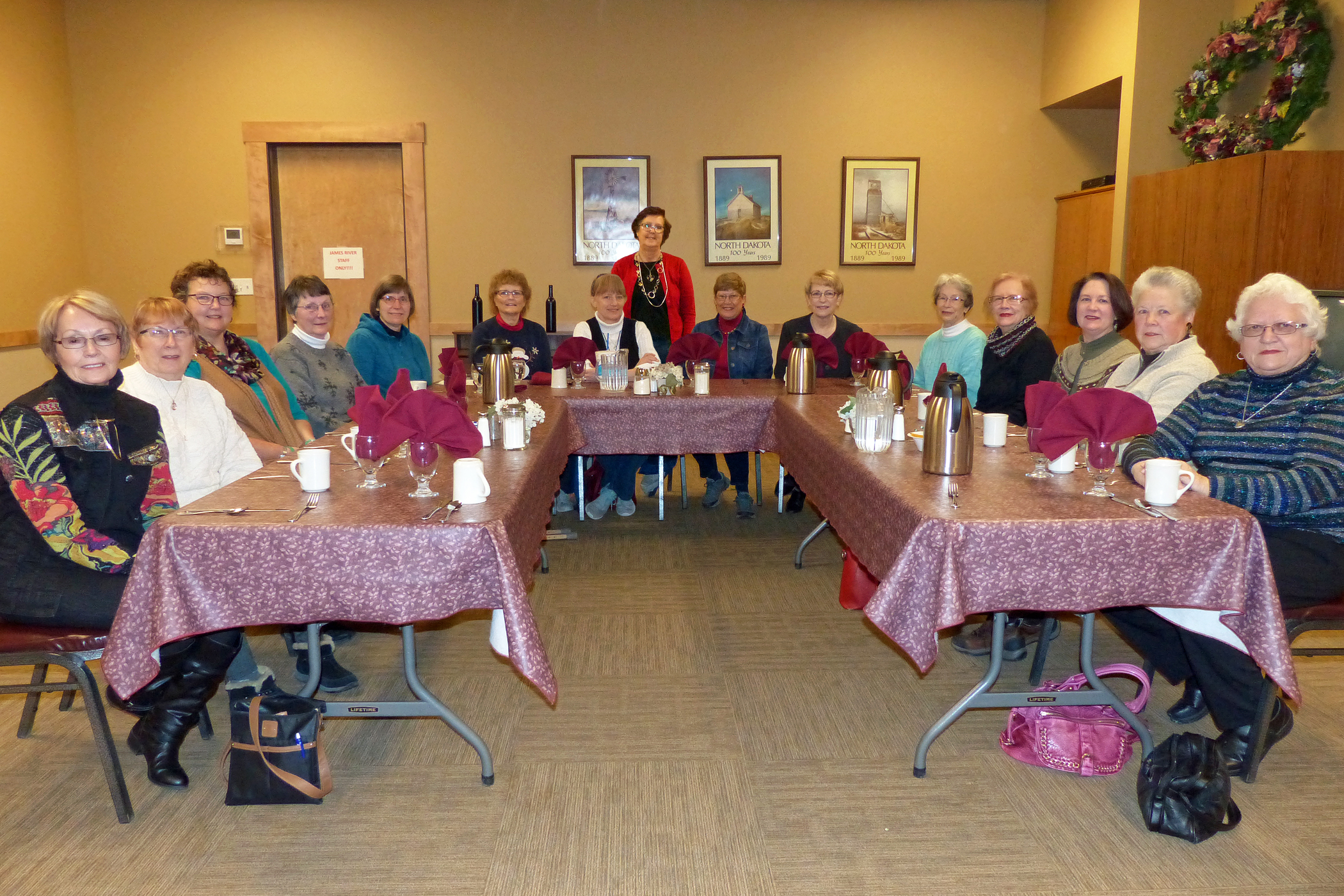 Members attended the January 13 brunch meeting at The Legacy Center (old Jamestown Hospital) at 10 AM.  Guest speakers were Kelly Krein and Deb Lee on the new joint venture between the AAUW Used Book Store and the RSVP Volunteers and the Dakota Store.
Pizza Party
The branch held a Pizza Christmas party on November 8th at the Deer Ridge Apartments Community Meeting Room.  Members welcomed new members Elizabeth, Linda and Denyse and had fun holding a white elephant gift exchange.
Alfred Dickey Library Expansion
Dr. Jo-Ida C. Hansen, daughter of member Charlotte H. Hansen, shares her memories of the library and it's influence on the Jamestown Community.
Read the complete story here: A Library Story: Community Quality
University of Jamestown Awards AAUW Scholarship
This year our branch scholarship was awarded to Lisa Truax of Jamestown.  We wish Lisa continued success in the pursuit of her career.
November-December Christmas Pizza Party and White Elephant Exchange
On November 8 members enjoyed a Christmas Party that was hosted at Deer Ridge Community Room by new member Louise Williams. It was a great party and members enjoyed doing a white elephant gift exchange.
Trick or Treating at the Buffalo Mall and Frontier Village
Branch members hosted two activities for Trick or Treaters for Halloween on Oct. 31. Members  handed out used children's books from our Bookstore at the Buffalo Mall event and also gave out an assortment of treats at the Frontier Village School House.  It is always fun seeing all the children (and supporting adults) in their costumes.
AAUW Jamestown at Rock the Block – August 31, 2017
AAUW Jamestown members will be hosting a booth at the Annual University of Jamestown "Rock The Block" block party from 5:00 – 8:00 p.m. on Thursday, August 31, on Main Street, Jamestown.  The theme for this year's booth is based on Title IX education.

These are thirty-seven words that changed everything for women's equity in education.
Members will be handing out "Safety Whistles" for the University of Jamestown incoming Freshman students.
Shape the Future Branch Meeting – September 6, 2017
Members had dessert and beverages at our first meeting after summer break. The meeting began at 7:00 P.M. at the central meeting room, Centerpoint Condo, 1208 7 St. SW, Jamestown. (On the way to Victory Lutheran Church).  This was a "Shape the Future" event and four new members were added.  Member Jill Schlenker shared her experiences at the AAUW National Convention that was held in Washington, D.C. in June.
AAUW National Convention

Branch member Jill Schlenker attended the AAUW National Convention in Washington, D.C. in June.  She joined fellow ND branch members Theresa Leiphon, our AAUW ND State President and Fargo-Moorhead Branch member Pat Schutt.  One of the many activities they got to do was visit with our ND Legislators. Here they are pictured discussing important issues for women with State Senator Heidi Heitkamp.  Hear all about AAUW National Convention at our September 6 branch meeting.
A video from the AAUW National Convention
 AAUW Annual Garden Tour
Thank you to all who attended the 28th Annual Garden Tour on July 19, 2017.  It was a beautiful evening and the event was well attended. Visit our Garden Tour web page for more details.

AAUW Bookstore Opened May 1
It is exciting news to announce that the AAUW Jamestown Used Bookstore is now open in collaboration with the Dakota Store and the Jamestown Volunteer Center. The new bookstore is located at 601 1 Ave. South in Jamestown (across from the St. James Basilica).  It will be open weekdays, Monday – Friday from 9:00 AM – 5:00 PM starting on May 1, and the second Saturday of each month from 10:00 AM – 2:00 PM.
The book store will accept your used book donations during business hours only!  Please use north side door for large donations. Ring bell and knock.  DO NOT LEAVE DONATIONS OUTSIDE OF THE BUILDING, always leave with a volunteer.
Types of Books Accepted
Fiction books: published within the past 10 years
Non-fiction books: published with the past 15 years
Exceptions: Classics, regional or special interest.
NO text books, encyclopedias, magazines or Readers Digest Condensed Books