Members are asked to watch the AAUW video, "State of the Association," put together by our CEO Kim Churches. We will then send out a discussion email thread on September 24 to comment on the video watch for the Topic Line: AAUW State of the Association. Please reply all on the thread.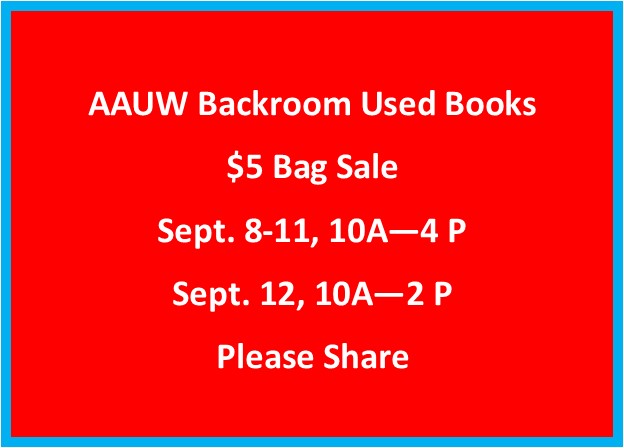 AAUW Garden Tour July 15, 2020
CANCELLED

Due To Covid 19

AAUW Prairie School House at Frontier Village will not have host/hostesses this year due to COVID 19 but will be available for viewing through the partition.
AAUW Bookstore Now Open
The AAUW Used Bookstore has reopened for business. Our regular hours are M-F – 10:00 AM – 5:00 PM and the second Saturday of every month, 10:00 AM – 2 PM
Membership Renewal
It is time to renew your membership to AAUW.  You can renew your membership online by logging into the Member Services Database or if you want to become a member of Jamestown AAUW that also can be done online.
AAUW National Unveils New Website
AAUW is pleased to announce the launch of our new national website.  The site is the result of many months of hard work and close collaboration with design experts, staff at all levels and AAUW members.  AAUW is thrilled to showcase member and staff work together towards advancing gender equity.
Jamestown Mayor Dwaine Heinrich Proclaims March 31, 2020 – Equal Pay Day
Jamestown Mayor Dwaine Heinrich proclaimed March 31, 2020 as Equal Pay Day in Jamestown. Equal Pay Day is the day that symbolizes when the typical woman working full time in the United States catches up to what a man was paid the previous year.   According to the most recent U.S. Bureau of Labor Statistics, ND women working full time, year-round in 2018 typically earned 73.9 percent of what men earned, indicating little change or progress in pay equity in the past 50 years.   That ranks North Dakota as 47th in the nation as having the largest pay gap for women.  Nationally, according to the U.S. Census Bureau, the report shows that in 2018, women in the U.S. received just 82 cents for every dollar paid to a man.  Women of color often face a wider gap: Compared to white men, Black women make 62 cents on the dollar, and Latinas make 54 cents on the dollar.  The Jamestown AAUW organization has been working to try to close that pay gap.  Jamestown AAUW has been involved in educating young women about careers in Science, Technology, Engineering and Math with the annual Tech Savvy event that is held in March at the University of Jamestown. Careers in STEM occupations are typically well paid and male dominated, with the national average salary for these jobs sitting at $87,000.  Tech Savvy is trying to change that demographic, according to Jamestown AAUW President, Debbie Alber.
At the current rate, the gender pay gap will not close until 2106. In 2018, AAUW announced a bold pledge to train 10 million women in salary negotiation by 2022.  Jamestown AAUW had to cancel a Work Smart Salary Negotiation Training in Jamestown that was scheduled for April 2 due to the pandemic, but will reschedule it sometime in the future.  AAUW will not wait for policies and employer culture alone to determine when we reach parity. AAUW members are working to empower women nation-wide with skills to effectively negotiate their salary and benefits and become agents of change in their communities.  Please consider celebrating Jamestown's Equal Pay Day by taking the free online Work Smart course at https://salary.aauw.org/ and continue to urge your legislators to make improvements to ND equal pay laws so that fair pay is an accessible reality for everyone.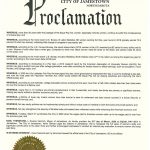 Work Smart Salary Negotiation –
Canceled Will Be Rescheduled
Jamestown AAUW canceled the workshop but you can still participate from home.  Please visit Work Smart and take the FREE online course.  Jamestown AAUW will be rescheduling their online Work Smart Salary Negotiation workshop that was formerly scheduled for Thursday, April 2, from 7:00 – 9:00 PM at the Jamestown High School Computer Lab at a future date due to the pandemic and social distancing.  The course is designed to teach women the skills they need to successfully negotiate and close the pay gap for women everywhere.  The seminar is limited to 20 participants. Please pre-register by contacting Debbie Alber, 701-269-1446 or dova_car@yahoo.com
ancer early. It can mean the difference between having a lumpectomy and a mastectomy, needing chemotherapy or not, and having
Girls Won Top Prizes in National STEM Contest
All five top awards were won by 14-year-old girls, with projects ranging from trapping invasive species to improving water filtration systems to designing bricks that could be used to build on Mars.
The five winners were chosen from 30 finalists selected from 2,348 applicants in 47 states by a panel of distinguished scientists, engineers and educators. This year, 60% of the finalists were female—a first for the competition. That's an encouraging sign for the STEM (Science Technology, Engineering, and Mathematics) field, in which women are still underrepresented.
To read all about these amazing girls and their projects read more at Girls Win Top Prizes.
Barb Domek – Communications Chair
Branch member, Barbara Domek, accepted the appointment as our branch communications chair and also a position on the steering committee. Barb is fulfilling the term of member, T  Johnson who is suffering some health issues.
AAUW Supports Downtown Arts Market
AAUW Jamestown received this lovely photo from the Jamestown Arts Center for our financial support of the Downtown Arts Market.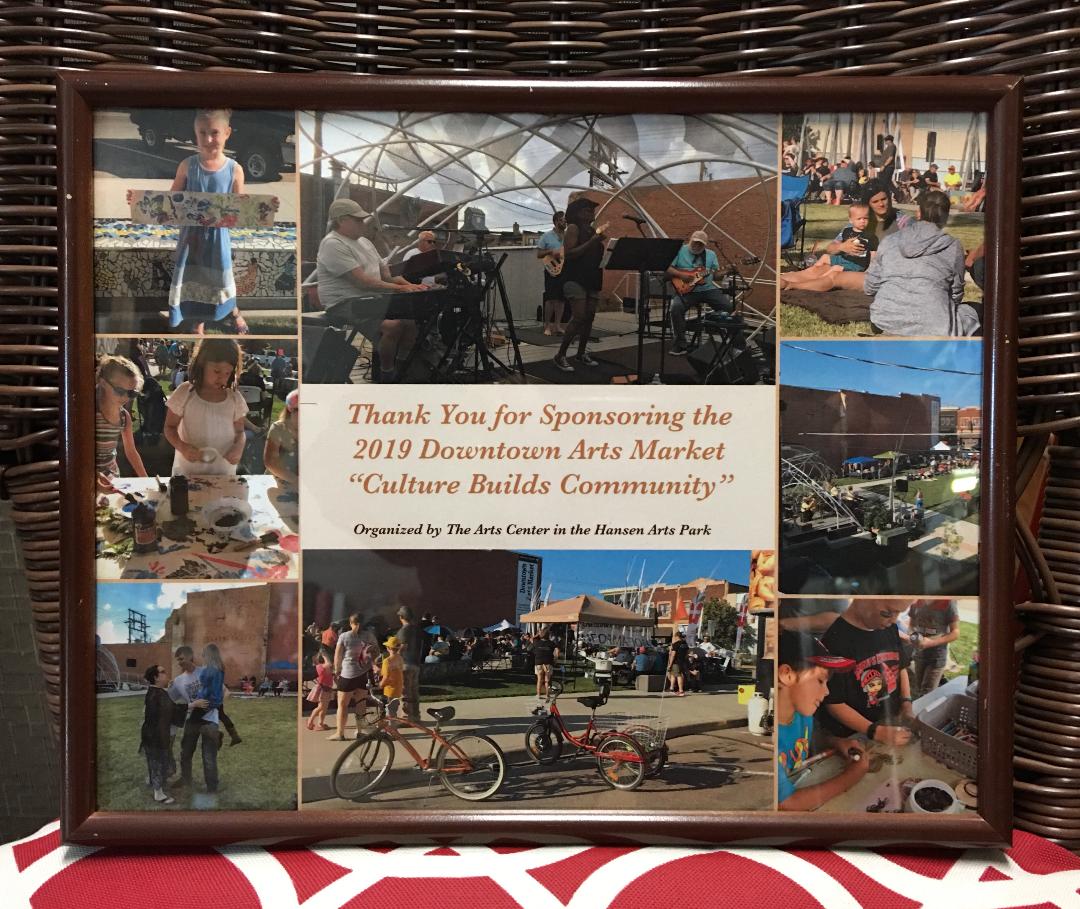 September 12 Meeting – James Valley Library
The September 12 meeting was held at the James Valley Library (Alfred Dickey Library) community room.  Members learned about the history of the James Valley Library and library features and it's significance to ND history.  Members also learned about how the library has evolved and changes to the library.  Dessert was served following by Barbara Domek and Debbie Alber during the business meeting.

AAUW 30 ANNUAL GARDEN TOUR – July 17, 2019 – 4:00 – 8:00 PM
The 30th Annual AAUW Garden Tour  was held on July 17, 2019 in Jamestown, ND.  Thank you to the community for again supporting this fundraiser that benefits AAUW Scholarship Fund at the University of Jamestown and supports AAUW programming that supports equity and education programming for women and girls. A special thanks to all those who assisted with the event and for our business who support it: The Arts Center, Country Garden Floral, Don's House of Flowers, and Lloyds Toyota.  And our wonderful garden host sites this year:
Connie Kanwischer, 1601 10 Ave NE, Jamestown, ND
Don and Karen Schumacher, 3321 Highway 20 North, Jamestown, ND
Yvonne Wibstad, 306 5 Ave. S.W., Jamestown, ND
Rod and Teri Wolters, 908 13 St. SW, Jamestown, ND
Visit Salary Negotiation take this free online course in salary negotiation techniques. AAUW's goal is to mobilize a million.