Save the date for the 32nd Annual Garden Tour, July 20, 2022.  Details coming soon!
Jamestown AAUW Celebrates 50 Year Members
Recent 50 year member, Hazell DeGroot, was joined by more than 50 year members Arlys Netland and Kelly Krein.  They were given flowering plants and honored with a cake and lemonade reception.  Members also elected two new steering committee members, Candace Dempsey and Louise Williams they will be replacing Jill Schlenker and Debbie Alber whose terms have expired.  Winner of the early bird discounted membership was member Mirt Brown.  Reports were also given about the used book store bag sale, Tech Savvy and the State Board meeting.  Jamestown AAUW also donated an additional $2000 to their UJ Endowment Scholarship Fund bringing the total donation to $7000 which was also matched by a UJ donor for an additional $7000.
Jamestown Awards UJ Student Scholarship for NCCWSL
University of Jamestown student, Sydney Lewellen, recently attended the virtual National Conference for College Women Student Leaders in May.  Lewellen received a scholarship from AAUW Jamestown along with a $500 stipend to attend the conference and presented a report to AAUW Jamestown at their June meeting. Lewellen is a student majoring in Graphic Design. She was able to network with many professional women at the conference and was empowered by the incredible women presentors she heard.

Jamestown AAUW hosted a "Free" online salary negotiation workshop on Thursday, April 21.  A lot of great information was shared and participants learned a lot about negotiating.  
This workshop is designed to empower women with the essential skills and confidence they need to negotiate for fair pay.  Did you know that at the current rate, the pay gap for all men and all women won't close until 2059?  Don't wait until you have a new job offer or for your annual review to learn to advocate for yourself at work. In AAUW Work Smart Online, participants learn:
* The causes and impact of the gender pay gap
* Tools to research competitive salaries
* Tips to articulate their skills, qualifications and experience
* The right ways talk about pay
This course is still available free of charge on line!  Visit Work Smart Training
Jamestown AAUW Sponsors UJ Student to the National Conference for Women Student Leaders
Jamestown AAUW  is proud to announce they are sponsoring University of Jamestown student, Sydney Lewellen to attend the 2022 National Conference of Women Student Leaders that will be held online May 24-26.
Lewellen is studying graphic design for e-commerce and is also active in several on-campus activities as well as in her community.  Lewellen hopes to expand on her communication and leadership skill set by attending this conference.
NCCWSL is three intense days of virtual leadership training, inspiration and networking for hundreds of college women from across the country.  For more information visit:  NCCWSL
Jamestown AAUW Awards Scholarship to UJ Student
Jamestown AAUW recently awarded a scholarship from the UJ endowment fund to Kassandra Frederickson.  Ms. Frederickson is a junior at the University of Jamestown majoring in nursing.  Frederickson also has a BA degree in Communication.  She is looking forward to a career in nursing.
Jamestown AAUW Helps Host Tech Savvy/STEMTASTIC
Jamestown assisted with and helped host the Tech Savvy/Stemtastic event that was held at the University of Jamestown on March 7. The event was well attended by over 300 middle school students from across the area.
Submit registration on link below:
ND AAUW Annual Meeting 2022
or Contact Michelle Fritz at mlfritz301@gmail.com or (701)230-3748
Friday Night, May 13th
Cabin 5 (C5)
5:30 PM Social
6:30 PM Awards Presentations
7:30 PM Review and update S.W.O.T. Analysis from Summer Boards
Saturday Morning, May 14th
8:00 AM Breakfast Cabin 5 (C5)
9:00 AM Zoom meeting Woodland Legendary Suites Meeting Room
Join Zoom Meetinghttps://us02web.zoom.us/j/6367861555
Meeting ID: 636 786 1555
○ National Representatives
■ Eileen Menton has been a director of AAUW's national board since 2017. She worked as a legal systems manager at the U.S. Justice Department and currently is a business analyst at the U.S. Consumer Product Safety Commission.  She was the president of the Virginia Glider Sleeve International Fund (now Women First International Fund), which provides grants for women and girls.  She is past president of AAUW of Maryland and of the AAUW Baltimore (MD) branch.
■ Cherie Sorokin currently serves as a director and secretary on the national board of AAUW, and as program chair for her local AAUW Marin branch. She has worked as a Spanish teacher (university, elementary, junior and high school levels), and lawyer and business executive (mainly at Bank of America). She currently consults on board governance with Veaco Group.  She's a published author of book and several treatises on corporate governance.    Cherie is a Life Member of AAUW and has been a member of branches in Indiana, Connecticut, and Illinois and California.
10:30 AM Break
10:45 AM Break out groups discussion – Rally ND AAUW
Lunch
1:30 PM Feedback from group discussions
2:45 PM Plan of Action
4:00 PM Business Meeting
Supper (no host) After Business Meeting
Tentative – Bio Girls Representative or White Horse Hill Auto Tour or other group activity
Sunday Morning, May 15th
Time TBD
Breakfast
Committee Meetings
○ ByLaws
○ Plan of Action Committee
Wrap up by noon

Equal Pay Day March 15, 2022
This date symbolizes how far into the year women must work to earn what men earned in the previous year. Equal Pay Day involves thousands of local advocates in programs and activities focused on eradicating wage discrimination against women and people of color. Local Equal Pay Day activists organize rallies, lobby days, speak-outs, letter-writing campaigns, workshops, and meetings with employers, policy-makers, and enforcement agencies to promote effective solutions for closing the wage gap. Red is worn on this day as a symbol of how far women and minorities are "in the red" with their pay.  For additional information see the Equal Pay Day Tool kit for sample letters, sample city proclamations and other equal pay day tools.

Feb 10 – Branch Book Review – "While the Windmill Watched"
Branch members and guests joined book authors Janine Pfeiffer Knop and Jackie Pfeiffer McGregor as they guided us through their book, "While the Windmill Watched."  The book outlines the lives of the Pfeiffer sisters during their growing up years in the 1950's in Menoken, ND.  A lively discussion as well as many childhood memories were shared.
Join us for Sustainable Medicine at our Jan. 15 Meeting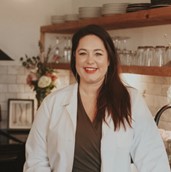 Join us at the University of Jamestown for brunch (cost $9.75 per person) at Knight Hall in the Badal Nafus Center at 10:00 AM followed by a virtual program at 11:00 AM  in Lyngstad Hall Room 206 (connected to Badal Nafus Center) given by Dr. Shylah Schauer, a naturopathic doctor, as she speaks to us on the topic of stress and burnout, their effect on our bodies and overall health, and what we can do to reduce stress and its effects. Dr. Schauer splits her time between the University of Jamestown and Amsterdam. If you are unable to attend and wish to participate on Zoom contact Erin Klein at 701-320-4560 or erin_oboe@yahoo.com to receive Zoom meeting information.  For more information about Dr. Schauer visit Dr. Schauer ND
AAUW Bookstore Ready For Holidays
Our bookstore elf, Connie Lillejord, has been busy decorating for the holidays!  Our lightly used books make great gifts for all ages!  Watch for upcoming sales and extended hours means we are now open every Saturday until Christmas from 10:00 AM – 4:00 PM.  We are grateful to our many bookstore volunteers who make the bookstore possible and for those who donate and purchase books!  Thank you and Happy Holidays!
Celebrating Museum Day at National Buffalo Museum
Jamestown AAUW enjoyed touring the National Buffalo Museum on Museum Day. Members explored the interactive exhibits, were educated about the history of the Bison in the movie theater and enjoyed the traveling display, "I am Bison."  "I AM BISON" is a debut art installation by Virginia-based artist Patty Swygert. The show will be at the National Buffalo Museum until November 6, 2021. The taxidermy display of White Cloud, who lived at the Frontier Village most of her life, brought back many memories of member trips to the Frontier Village to view her.  Several guests joined us as we toured the museum and held a brief meeting following the tour.  AAUW Jamestown is offering a 1/2 price discount off National Dues for new members. Consider advocating and supporting equity for women and girls by joining us with this special dues link:   Shape The Future.
Jamestown AAUW Awards Larissa Oster $500
Larissa Oster gave a report about her attendance at the Virtual National Conference for Women Student Leaders at the September meeting of Jamestown AAUW.  After the report, Jamestown AAUW members presented Larissa with an award of $500 to be used for her continuing education. Oster is working toward her master's degree in counseling at the University of Jamestown.
 AAUW Rocks the Block with the UJ Students
Branch members again participated in the annual welcoming of the incoming freshman students at the University of Jamestown "Rock The Block" party on main street on August 25.  Our table display included information about our used book store, tech savvy program, free national AAUW membership for UJ students and our scholarship support.  It was a fun evening handing out candy and bookstore bookmarks.
Signing the Equality Bus
AAUW members also had a display at the Vote Equality 2021 Midwest Bus tour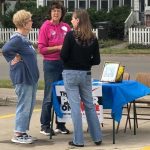 on August 27 in Jamestown. The bus is touring North Dakota and the Midwest to educate people on equality. They are talking to people about their fight to ratify a 28th amendment to the constitution and encouraging them to sign the bus to show support.
The Vote Equality Movement is a nonpartisan grassroots effort to add a constitutional amendment guaranteeing equal rights  regardless of gender, race or sexual orientation, including equal voter rights.