January 13 Brunch Meeting
Members are invited to attend the January 13 brunch meeting at The Legacy Center (old Jamestown Hospital) at 10 AM.  Guest speakers will be Kelly Krein and Deb Lee on the new joint venture between the AAUW Used Book Store and the RSVP Volunteers and the Dakota Store.  Please RSVP to Patsy Klose if you plan to attend at: patsyklose@msn.com or call 701-252-3983.
Alfred Dickey Library Expansion
Dr. Jo-Ida C. Hansen, daughter of member Charlotte H. Hansen, shares her memories of the library and it's influence on the Jamestown Community.
Read the complete story here: A Library Story: Community Quality
University of Jamestown Awards AAUW Scholarship
This year our branch scholarship was awarded to Lisa Truax of Jamestown.  We wish Lisa continued success in the pursuit of her career.
November-December Christmas Pizza Party and White Elephant Exchange
On November 8 members enjoyed a Christmas Party that was hosted at Deer Ridge Community Room by new member Louise Williams. It was a great party and members enjoyed doing a white elephant gift exchange.
Trick or Treating at the Buffalo Mall and Frontier Village
Branch members hosted two activities for Trick or Treaters for Halloween on Oct. 31. Members  handed out used children's books from our Bookstore at the Buffalo Mall event and also gave out an assortment of treats at the Frontier Village School House.  It is always fun seeing all the children (and supporting adults) in their costumes.
AAUW Jamestown at Rock the Block – August 31, 2017
AAUW Jamestown members will be hosting a booth at the Annual University of Jamestown "Rock The Block" block party from 5:00 – 8:00 p.m. on Thursday, August 31, on Main Street, Jamestown.  The theme for this year's booth is based on Title IX education.

These are thirty-seven words that changed everything for women's equity in education.
Members will be handing out "Safety Whistles" for the University of Jamestown incoming Freshman students.
Shape the Future Branch Meeting – September 6, 2017
Members had dessert and beverages at our first meeting after summer break. The meeting began at 7:00 P.M. at the central meeting room, Centerpoint Condo, 1208 7 St. SW, Jamestown. (On the way to Victory Lutheran Church).  This was a "Shape the Future" event and four new members were added.  Member Jill Schlenker shared her experiences at the AAUW National Convention that was held in Washington, D.C. in June.
AAUW National Convention

Branch member Jill Schlenker attended the AAUW National Convention in Washington, D.C. in June.  She joined fellow ND branch members Theresa Leiphon, our AAUW ND State President and Fargo-Moorhead Branch member Pat Schutt.  One of the many activities they got to do was visit with our ND Legislators. Here they are pictured discussing important issues for women with State Senator Heidi Heitkamp.  Hear all about AAUW National Convention at our September 6 branch meeting.
A video from the AAUW National Convention
 AAUW Annual Garden Tour
Thank you to all who attended the 28th Annual Garden Tour on July 19, 2017.  It was a beautiful evening and the event was well attended. Visit our Garden Tour web page for more details.

AAUW Bookstore Opened May 1
It is exciting news to announce that the AAUW Jamestown Used Bookstore is now open in collaboration with the Dakota Store and the Jamestown Volunteer Center. The new bookstore is located at 601 1 Ave. South in Jamestown (across from the St. James Basilica).  It will be open weekdays, Monday – Friday from 9:00 AM – 5:00 PM starting on May 1, and the second Saturday of each month from 10:00 AM – 2:00 PM.
The book store will accept your used book donations during business hours only!  Please use north side door for large donations. Ring bell and knock.  DO NOT LEAVE DONATIONS OUTSIDE OF THE BUILDING, always leave with a volunteer.
Types of Books Accepted
Fiction books: published within the past 10 years
Non-fiction books: published with the past 15 years
Exceptions: Classics, regional or special interest.
NO text books, encyclopedias, magazines or Readers Digest Condensed Books
May Meeting
We held our May meeting on Thursday, May 4 from 5-6 p.m. with a tour of our new used book store located at 601 1 Ave. S. in Jamestown.
Kelly Krein Recognized as Zonta Outstanding Women Leader
"The Zonta Club of Jamestown recently honored five outstanding women leaders of the community at its second annual "OWL" Brunch for Outstanding Women Leaders awards presented on Saturday, March 25, at the Bunker.  Kelly Krein, Jamestown AAUW member, was one of the recipients.
Krein pointed out the benefits of a smaller community like Jamestown, where people are more likely to know and seek you out to help on a project. She highlighted the importance of seeking out others, helping them to see their talents and gifts, and empowering them toward greater roles in the community taking what she has learned and paying it forward.
Zonta is an international service organization working together to empower women locally andworldwide through service and advocacy.
Alber Received "Women of Distinction" Award
Debbie Alber,  (Jamestown), was the recipient of AAUW's ND "Women of Distinction" award.  The award is given to a member who promotes women's and girls' issues, has served as an officer at both the local and state level, has attended a national conference, participates in leadership development within the state of ND, and is recognized within the community and/or state as a leader and motivator.
Jamestown AAUW Receives Prairie Rose Award at State Meeting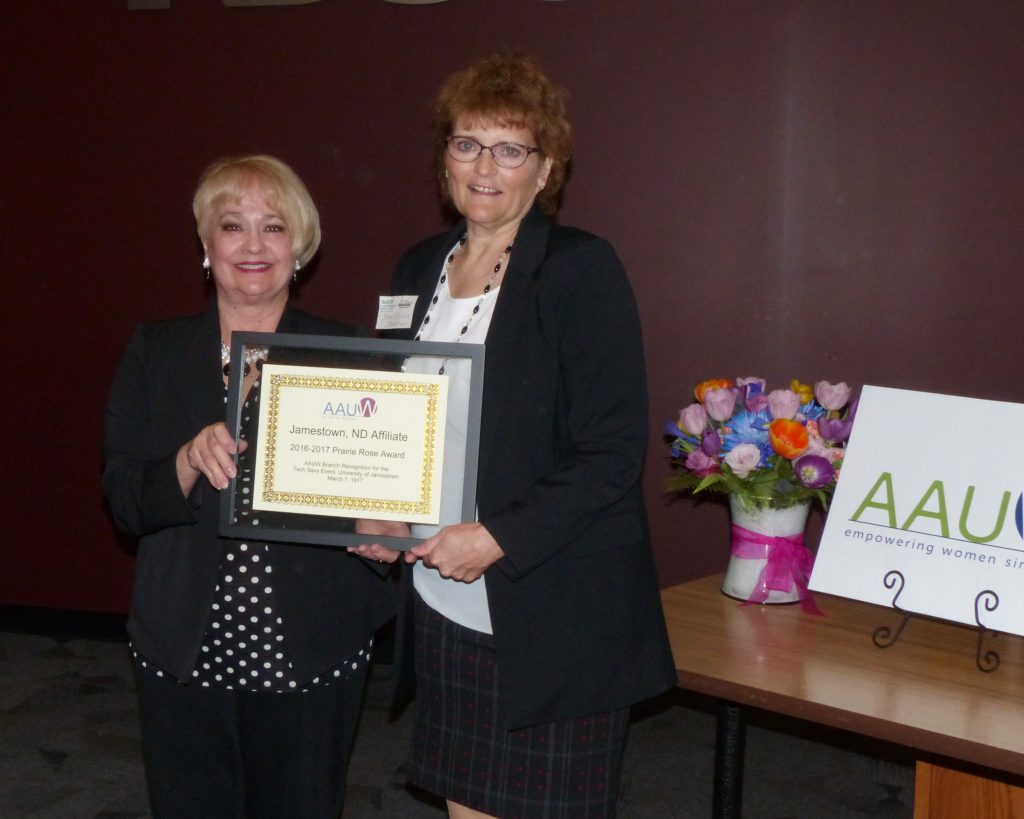 Jamestown was recently awarded the Prairie Rose Award for their most successful and outstanding project this past year (2016-2017) for Tech Savvy that was held in March that brought over 300 middle school girls together to learn hands on about STEM (Science, Technology, Engineering and Math) careers.  President Joan Slusser is accepting the award from State AAUW President, Theresa Leiphon.
See highlights of the AAUW Annual Meeting April 21-22 in Wahpeton
Jamestown Branch Member Wins AAUW Art Contest
Jamestown branch member, Mary Craft, submitted her entry "Spring Rain on Tulips" to the AAUW Annual Art Contest.  Mary took the photo while on a trip to the Keukenhof Gardens.  Mary has entered the contest the past three years and this is her first win.  Mary's photo was one of the winners of the popular vote in the 2017 AAUW Art Contest!  Her winning entry will be featured in a collection of note cards that will be mailed to members this spring.  Congratulations!
2017 Tech Savvy
AAUW Jamestown again held their annual 2017 Tech Savvy event at the university of Jamestown.  Over 300 young middle school women gathered at the University of Jamestown to learn more about careers in Science, Engineering, Technology and Math. The girls had lots of fun enjoying hands on activities in each of the Stem Careers. Read all about the event here.
We Rise 2017
Jamestown AAUW is a proud co-sponsor of the We Rise 2017 event that was held in Bismarck. Over 168 women from across the state participated in this two day event. Several attendees were active in testifying on HB 1308 – Welfare Drug Screening.  Read more about this testimony here.