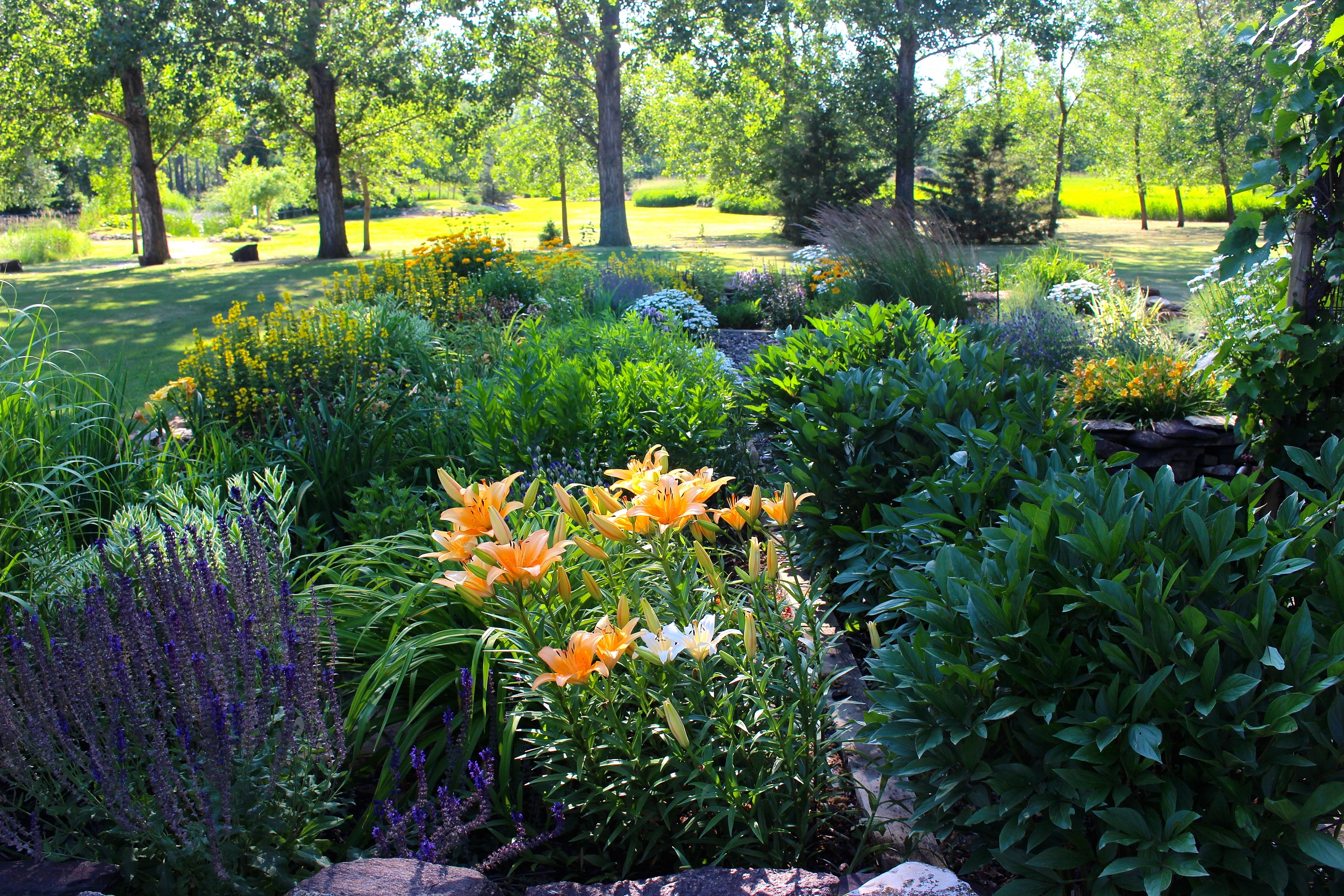 29th Annual AAUW Garden Tour
July 18, 2018
4:00 – 8:00 PM
TICKET PRICE:  $10 ADVANCE
$12 DAY OF TOUR (all tickets non-refundable)
Tickets are available at:  The Arts Center, Country Gardens Floral, Lloyds Toyota, The AAUW Used Bookstore and Dakota Store, and from all AAUW members.
2018 AAUW GARDEN TOUR LOCATIONS
Gary & Cathy Carlson
506 8th St SW (Turn west off 1st Ave S)
Mike & Colleen Dronen
1301 8th Ave SW (Northwest of Newman Signs)
Shaun & Deanna Fischer
805 161/2 St. NE (West of Highway 20 N.)
Jon & Connie Lillejord
1604 Evergreen Dr NW (near Fairgrounds)
Visit The Arts Center at 115 2nd Ave SW (downtown) from 6:00 – 8:00 pm for refreshments and exhibit and to turn in your completed ticket (all locations checked) with your clearly printed name and phone number for door prizes.
28th Annual Garden Tour – Highlights
The 28th Annual Garden Tour which was held on July 19, 2017 in Jamestown, ND was a huge success.  Thank you to everyone who attended and supported this annual fundraising event that supports our branch endowment fund at the University of Jamestown and the AAUW Foundation that supports grants and funding for projects that promote equity for women and girls.
A special thank you to the wonderful people who opened their gardens for our tour.
Kimm Avans, 418 4 Ave. SE, has the newest yard. Her yard design and flower beds are only three years old. She uses interesting yard art, rocks and mulches for lots of contrast.
Frank and Stephanie Jensen, 1605 3 Ave. NE,  yard overlooks the James River Valley.  They have worked hard to create an accredited wildlife habitat in their back yard with numerous bird baths, feeders and mason bee houses.
Alan and Mary Sargeant, 3161 Highway 281 N., large acreage features many native species of trees, prairie and perennial plantings.  They have over 90 varieties of day lilies.
John Zvirovski, 1601 7 Ave. SE, is bursting with over 1250 annuals and 300 perennials. A special focal point is the rose garden and the "secret" gnome home.
An added feature of the tour was the recently restored 1883 Stutsman County Courthouse, on the corner of 3 Ave and 5th St. SE, where guests viewed the interior and have refreshments or drop off completed tickets for door prizes.
Advance tickets are only $8 in advance and can be purchased from any AAUW member or purchased at these Jamestown businesses, The AAUW Used Bookstore, 601 1 Ave. S; The Arts Center, 115 2nd St. SW; Country Garden Floral, 106 Business Loop West; Don's House of Flowers, 1107 7 Ave. SE and 1602 Business Loop East; Lloyd's Toyota, 500 17 St. SW; and the Garden Gate, 208 1 St. West. Tickets are $10 the day of the tour and will only be available after 3:00 PM  at the AAUW Used Bookstore or at each tour site.
A special thank you to our business sponsors Country Gardens Floral, Don's House of Flowers, The Arts Center, The Garden Gate, Lloyds Toyota, The Jamestown Sun, KQDJ, CSI Cable and Dakota Central.
Thank you for attending and watch for next year's garden tour date.