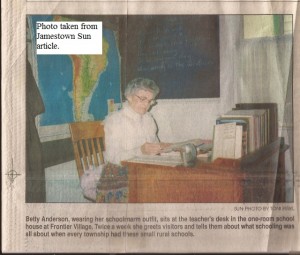 In 1960 the Jamestown Branch formed a committee to take responsibility for furnishing and staffing the Frontier Village one-room school house. The school was purchased by club member, Margaret Hawkins and her husband, Reese after the school closed in 1951.  The Jamestown Area Chamber of Commerce paid to move it to the Frontier Village from its location in Sinclair Township, south of Cleveland. The school, built in 1910, authentic inside as well as outside brings back memories for some and for others it's stepping into a past they can't even imagine.  The school is usually open from Memorial Day through Labor Day.  The branch is currently looking for a school house coordinator.
A School House Coodinator is needed for the 2019 Season.  Please contact Debbie Alber:   dova_car@yahoo.com for more information about being coordinator.  She can also be reached at 701-669-2242.
Volunteers (members and non-members) are needed from Memorial Day through Labor Day to staff the school house from 1:00 – 5:00 p.m. daily for the 2019 season. If you like to meet and visit with visitors from around the world, share your knowledge of North Dakota history and especially it's education system and if you enjoy spending a few hours stepping back in history and being a pioneer "teacher" of the day consider becoming a volunteer.  Please sign up to work a shift at our online calendar at the link below. Place your name in the yellow slot on the date you wish to work.
2019 Prairie School House Calendar
If you have trouble accessing the calendar send an email to Debbie Alber:   dova_car@yahoo.com  and she will update it for you.  She can also be reached at 701-669-2242.  It is always fun to meet and greet the many visitors to the school house.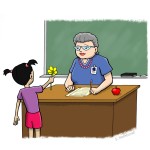 A special thanks to Tom Enderle for building maintenance, Joan Slusser for the new curtains and to our 2018 volunteers including the help from the Jamestown Retired Teachers Association.  Thank you for giving of your time.
.